How to add an Employee to Vizmo directory
Adding an employee to Vizmo location directory will enable you to select the added employee as a host while creating an invite, creating a visitor log and lot other features of VIZMO has been discussed in respective sections elaborately. Click the ADD button from employee actions to start adding your employee to your directory. One can import using a .CSV file in the suggested format, and can export the existing directory as well.

You need to enter your employee details in respective fields like name, email and other fields. Employee name and email are mandatory fields and all other fields are optional.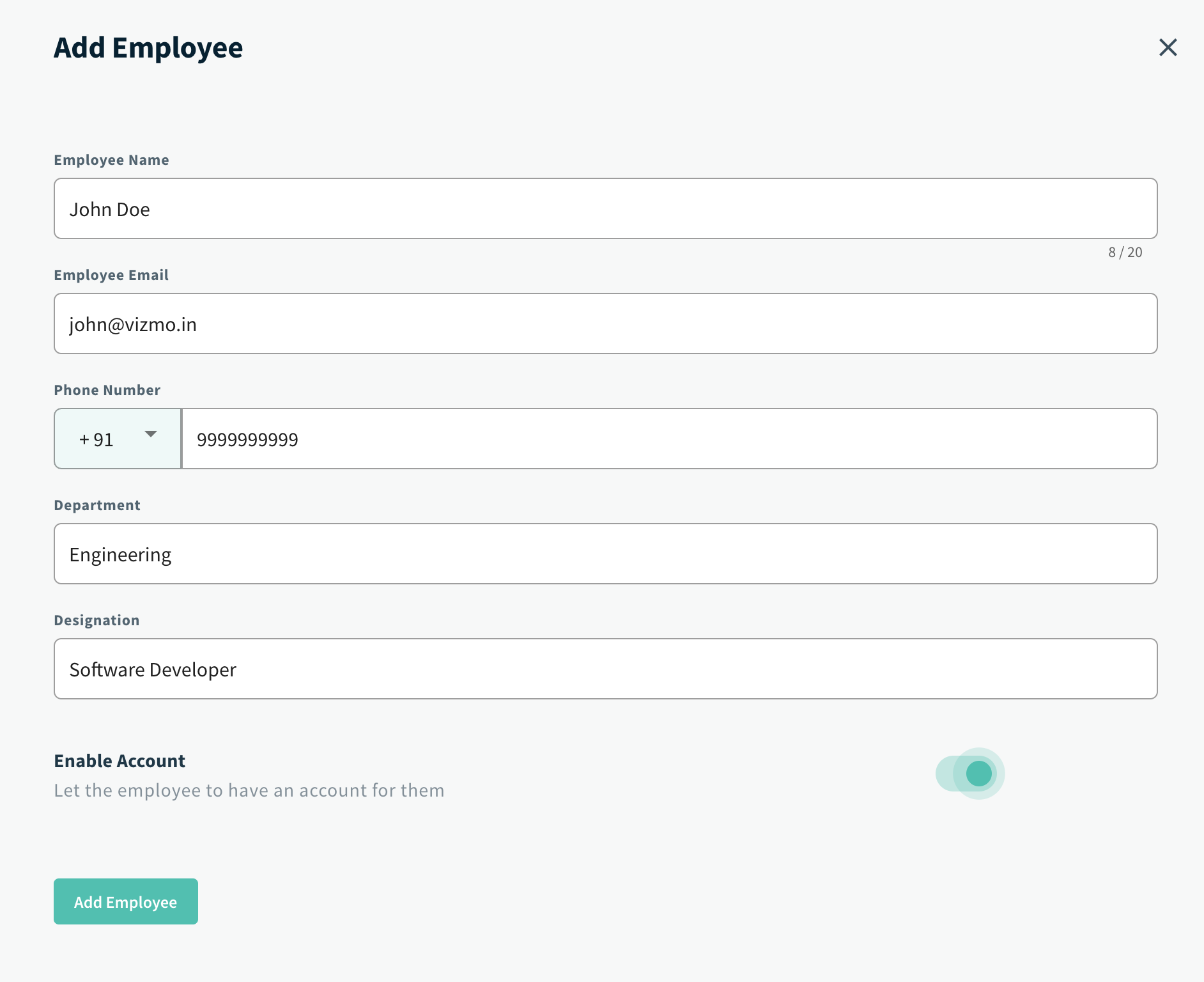 Creating account
Employees can be enabled to manage their visitors by enabling employee accounts.
If
Enabled
, an invitation is sent to the employee to let them know about Vizmo Pass app and dashboard. By clicking ADD will create an employee in VIZMO directory with all the entered details.

We do validate for duplicates by email and phone number before adding the employee to the directory.

Related Articles

Vizmo Pass

Who can use Vizmo Pass This feature is only available as part of Premium and Enterprise subscription plans. Any user with a Vizmo account can use the Vizmo Pass app to create a Pass for themselves, use the below link to know more about adding ...

What can Vizmo Pass do?

Vizmo Pass addresses Employee Management along with Visitor Management. We'll be adding more features to the cater to this need. Vizmo Pass Features: Employee Pre registration: Employees can Pre Register themselves beforehand to any of the locations ...

Getting started with Visitor Management

Greet your Visitors with a kiosk based Visitor Management System that notifies the hosts and print visitor badges all through one sleek check-in terminal. The advancement in technology has been making lives simpler over time. Adapting newer ...

How to add a role to the Employee

Go to Settings > Role Click ADD icon to the right of the page. A popup will appear, select the employee and role type from the saved list. Click CREATE to finish or cancel to discard.

Microsoft Azure Active Directory Integration

To get the most out of Vizmo's features, you'll need to populate the employee directory. Vizmo supports employee import/export from Azure AD in real time. Integrating Vizmo onto Microsoft Azure AD enables employees directory sync and since all ...