This feature is only available as part of Premium and Enterprise subscription plans.

Any user with a Vizmo account can use the Vizmo Pass app to create a Pass for themselves, use the below link to know more about adding employees to the directory and creating an employee account.

Vizmo Pass mobile app is available on both
Apple
and
Android
platforms. Use the employee account credentials to start using the app.

If the user had been using the employee account, all the data will be available readily from the mobile app as well.
Features of Vizmo Pass
Touchless Check in

Pass Management

Invite Management
Accept-Reject visitors
Visitor log

Directory
User profile settings
Enable Vizmo Pass for employees with account.
Vizmo Pass is a feature dependent on the Employee Pass settings. Which can be controlled by the location admins and global admins.

Login to Vizmo dashboard with Admin credentials > Settings > Employee Pass > Enable Employee Pass

Enabling this settings will allow the app users to use use the Touchless check in feature called "Spot Checkin" and "Pre register" option to plan visits on site.

An option to create an "Employee" visitor type, to identify the visitor as an employee. The admin can create more employee centric visitor types from the check in flow settings as well.

The Employee Pass is dependent on the invite settings.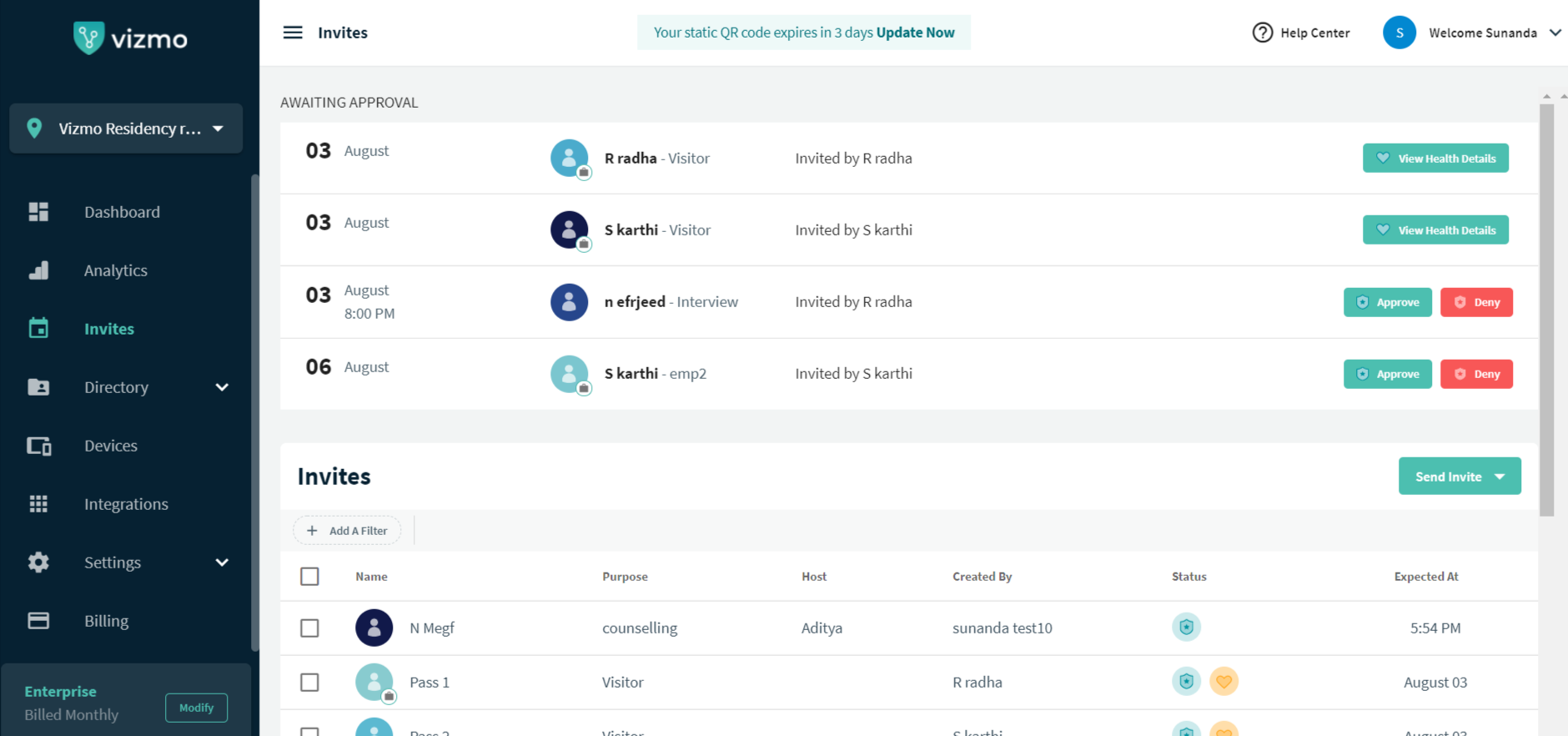 All the Pre registration approvals are displayed alongside the "Awaiting Approvals" section of invites of an Admin dashboard.

This section involves both invite approvals and employee Pre Registration.


This approvals settings controlled by the same settings as approvals for invites.

Links to download Vizmo Pass :